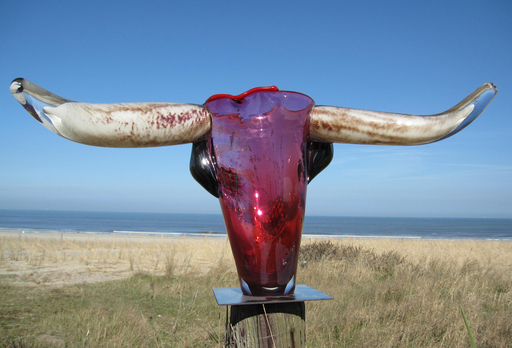 CV Bikkel Artist
INTERNATIONAL CONTEMPORARY ARTIST (Professional)
Willem de Kooning Academy / University of Professional Education Rotterdam. Graduated in 2002 with exceptional exam. www.bikkelartist.com. https://www.facebook.com/bikkelartist
GALLERY KUNST AAN DE KADE, founder and curator. Housed at Society Het Meisjeshuis, Oude Delft 112, 2611 CG Delft. www.kunstaandekade.com
WORLD ART GAMES NETHERLANDS, president (WAG NL)
@Trademarks Register since 2004. Reg. nr. 0755087. KvK Rotterdam: reg nr 24238842
PRIZE:
2018 World directory Award - handed at Florence, Italy. By Const. Foundation
2018 International Prize Raffaello – handed at Bologna, Italy by Const. Foundation
2017 Metropolitan Empire Prize - handed at American FOLK ART Museum, NY
2017 Golden Medal for Glass - 4th World Art Games
2016 International Prize Venice in Art - Casanova Award
2016 International Prize Leonardo Da Vinci – The Universal Artist
PAST:
OPERA "Mijn Kleurrijk Verleden", producer and libretto by Bikkel Artist, 2012
With in Music of F. Poulenc under Poems of P. Elouard.
World Premiere: November 16th 2012 at Stadsgehoorzaal Vlaardingen, The Netherlands
@Youtube: https://www.youtube.com/watch?v=6h-8uAp-hHU&hd=1
FOUNDER WAG NL 2014 GROUP. @facebook: https://www.facebook.com/n/?video%2Feditvideo.php&v=616334575126388&aref=124022448&medium=email&mid=9a996bcG5af337532c88G7646eb0G3dG104c&bcode=1.1396677006.AbnRXK1Fu4L9zpfA&n_m=a.dehaan%40zonnet.nl
REPRESENTATIVE & BENELUX ART CONSULTANT OF MUSEUM OF THE AMERICAS (MOA). 2010-2015. www.museumamericas.org
JURY MEMBER AT ZOMEREXPO 2014 www.zomerexpo.nl and www.artworlds.nl
MEMBER HEAD GROUP CULTURE RENOVATION MUNICIPALITY OF VLAARDINGEN. 2011-2014 Led by Councillor for Culture, Jan Robberegt, resulting in formation of Association Vlaardingen Culture Foundation (VCS)
MUSEUM MAASSLUIS, VOLUNTEER EDUCATION AND SET UP EXHIBITIONS. 2013-2015
TEACHER CULTURE & ART EDUCATION (CKV) LENTIZ REVIUSLYCEUM, MAASSLUIS. 1993-2011 (HAVO-VWO)